Special Topic
Wilde Pedique toe nail reconstruction

For painful toenails
One of my patients, a lady in her 70s, has Charcot Marie Tooth disease. She has clawed flaccid toes, foot drop and significant lower leg muscle wasting and weakness. She wears specially adapted shoes and callipers to control her foot drop, help ankle instability and aid her walking.
When I first saw her 10 years ago her 5th toenail and the around the 5th toenail were extremely painful. Her clawed flaccid toes meant she was walking directly on her toenails and the constant trauma and friction to the area meant the 5th toenail took most of the pressure. We tried all types of padding, gel coverings and supports but nothing eased the pain until I decided to apply a false nail to the painful 5th toenail. And what a transformation that was, the area was instantly comfortable and I have been replacing the false toenail every 6-8 weeks ever since. She still walks on her 5th toenail all of the time but the false nail acts as a barrier to most of the pressure and stops the pain.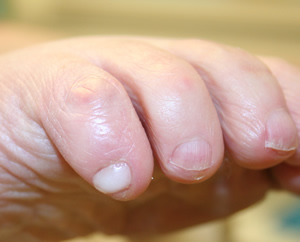 Charcot Marie Tooth Disease - 5th toenail reconstruction with Wilde Pedique UV nail gel
Charcot Marie Tooth disease is an inherited neurological disorder. It mainly affects the feet and legs with loss of muscle tissue and touch sensation. Symptoms often begin in late childhood or early adulthood and can vary but foot drop is commonly seen early on often causing claw toes, and lower leg muscle wasting. Weakness in the hands and forearms can occur later on as the disease progresses as well as problems with breathing, hearing, vision, scoliosis, hip problems and gastrointestinal and eating and swallowing issues.
Nail Reconstruction - Step by Step
Use Pedique UV gel designed specifically for toenails - it is more flexible than the gel used for finger nails
Remove the old false nail gently with nippers, lightly file over with a nail drill
Clean and degrease the area
Paint Connex onto the toenail - improves bonding to the natural nail
Wait 2 mins for the Connex to air dry
Paint on a thin layer of Pedique gel
Cure the Pedique gel with the UV light for 2 minutes
Job finished
I use the Pedique UV gel for a number of toenail conditions however I will apply it for medical reasons only. I do not apply the Pedique UV toenail gel for beauty reasons. If you require false toenails for beauty please see a beautician.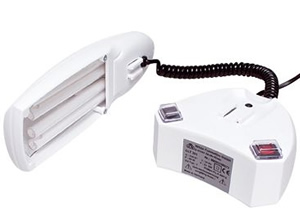 Pedique UV Light Unit
Contact Sue Ferguson
Podiatrist

Book an appointment now to help your foot pain
Tel: 01580 765546