Special Topic
Shoe Lacing for Problem Feet
You don't need to leave shoe laces tied the way the shop laced them for you. There are lots of different ways of tying a shoe lace. Altering the lacing pattern can make a big difference to how a shoe feels.
Heel Slippage
If you have heel slippage use a lock loop at the last eyelet hole. This will help to stop the heel rubbing.
I have used white laces with black shoes so that you can see the lacing more clearly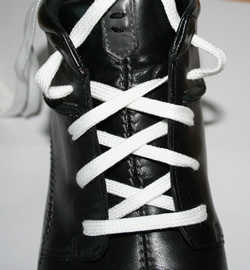 Lace the shoe until one eyelet is left on each side, then lace on the same side from above to underneath the eyelet hole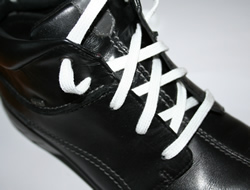 Here is the above step from a side view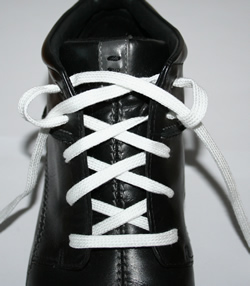 Cross the end of the lace over to the other side and feed through the loop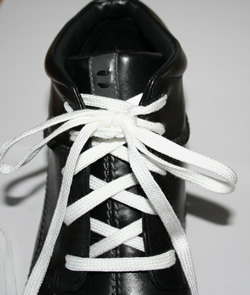 Tie into a bow as normal. You will find you can tighten the top around the ankle without it pulling the rest of the lace tight.
See my blog for more shoe lacing tips.
Note: You might need to try a different approach to your shoe lace problem than that listed above.
Contact Sue Ferguson
Podiatrist

Book an appointment now to help your foot pain
Tel: 01580 765546

Lock Laces - an option if you want a quick solution when running or if you find tying shoe laces difficult.