Chiropodists Felt
Chiropody felt is available in different thicknesses and different materials. The one I use all the time is 100% semi compressed pure wool. It is cut to size and then applied to the skin. When applied properly it is excellent at helping to stop pressure on the skin.
I buy this felt in packs of 4 very large sheets however it is available in smaller sized packs. I find the most useful thicknesses are 2mm and 5mm. Alternatively you can purchase the ready cut oval corn rings.
Fleecy web and moleskin are generally much thinner than chiropody felt.
Contact Sue Ferguson
Podiatrist

Book an appointment now to help your foot pain
Tel: 01580 765546

Chiropody Felt
Chiropody Felt - larger sheet
Chiropody Felt - pre cut rings
Fleecy Padding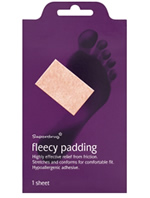 Fleecy padding