Ordering Custom Made
Orthotics
PROCEDURE
What happens at your podiatry appointment
1. Medical History and History of Complaint
A detailed medical history is necessary to decide if orthotics are the most appropriate treatment to help you.
Knowing how and when your complaint started can help build up a picture of your problem.
2. Biomechanical Assessment
It is important to test your muscles and joints for normal and abnormal movement.
Do you pronate (rotate your foot in) or supinate (rotate your foot out)?
Do you have flat feet, bunions, hammer toes?
Do you have heel pain, plantar fasciitis?
Do you walk with a bouncy gait or a very heavy gait?
Do you in-toe or out-toe when you walk?
Do you have pain anywhere else in your body - knees, hips, lower back?
3. Dynamic Gait Analysis using GaitScan equipment
It is important to get a complete picture of how the feet function in a weight bearing and moving situation.
By walking and standing on a pressure mat on the floor, various sensors in the mat can locate areas of imbalance and determine poor foot function.
4. Computer Analysis and Graph Analysis report for patient
The information gathered by the sensors is analysed by the computer software and an individual graph analysis report is produced.
| | |
| --- | --- |
| GaitScan Equipment | Graph analysis report |
| Showing path of foot progression | 3D image of foot pressure |
5. Information sent to lab
The information from the medical history, the biomechanical assessment, and the computerised gait analysis is then sent to the lab for further analysis by technicians using computer aided programs to assess exactly the orthotic necessary.
6. Lab Production
It is important to use a high quality lab to produce the orthotics to ensure an accurate, long lasting and comfortable orthotic.
The orthotics will be ready for fitting after about 2-3 weeks.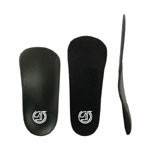 Everyday typical orthotic showing topcovers of different lengths
7. Dispensing and Break-in
Orthotics need to be carefully worn at first as they fundamentally change the way you walk. They should be worn for about 1-2 hours the first day and 2-3 hours on the second day and so on. By the end of 1-2 weeks you should be wearing them all day. Some people adjust more quickly than others. Mild discomfort, particularly in the hip area, can occur at first if the break-in period is too short. Once your body has adjusted to a new walking position these aches, if present, should quickly disappear.
8. Guarantees, Precautions, Problems
GUARANTEE
Orthotic shell: 3 years against breakage/cracking of plastic shell with normal use
Top Cover: six months warranty on tearing and abnormal breakdown
Additions and Modifications: six months warranty on abnormal breakdown
PRECAUTIONS
Do not climb rung ladders or dig with a spade as this can put pressure along the length of the orthotic shell
Keep orthotics away from animals. Dogs tend to find orthotics quite attractive to chew.
PROBLEMS
Squeaking: dust with talcum powder before placing the orthotics in shoes
Heel slippage with some shoes: try other shoes and try to purchase shoes with a deeper heel seat. Slippage can reduce or disappear as foot function improves.