Superfeet Insoles

Ready Made orthotics
Do you have Painful Feet
Superfeet insoles are a good choice if you have painful feet and want to try ready made insoles.
Why wear Superfeet Insoles and orthotics
Superfeet insoles will help make your feet more comfortable if you have arch pain, fallen arches, flat feet, heel pain, plantar fasciitis, excessive or abnormal pronation, and tired and aching feet.
Which Superfeet Insoles should you try
Which ones do I recommend:
Superfeet Type
Description of insole and use
3/4 Insoles
For men. These 3/4 length insoles will easily go into regular shoes. They will help support the foot and re-align the body.
3/4 Insoles
For Women. These 3/4 length insoles will easily go into regular shoes
High Heels
For women's high heeled shoes.
Superfeet Black

Everyday full length Insoles - lighter control than the 3/4 insoles above. Excellent for putting in wellies. For any type of trainer, hiking boot, casual or dress shoe. Cut down to 3/4 size if necessary to fit into shoes

Superfeet Black DMP

An extra comfort insole for sensitive feet with extra foam layers.

For people with flat feet and those who normally find orthotics uncomfortable. For shoes that can accommodate a full length insole. Very useful for diabetics, and patients with plantar fasciitis, bunions, heel spurs and painful plantar callus. However this insole is thicker than some orthotics so your shoes need to be able to accommodate this extra thickness. If your shoes are tight fitting these orthotics will not fit.
What do you need to consider
You must consider how much room there is in your shoe


If you want to put a full length insole in a shoe you must have room for the insole. Unless your shoes are extra deep this normally means you have to remove an existing full length insole from the shoe to make room for the orthotic. It is no good filling up your shoe with an insole which will make the shoes too tight and not leave enough room for your toes. It might be necessary to trim a few mm from the toe end of the insoles so that they fit into your shoes - you can remove the existing insole from the shoe and use as a template.


For tighter fitting dress and slip on shoes you will normally only have room for a 3/4 insole - this is an insole which goes from the heel to the metatarsal heads. Either buy the full length black everyday insoles and cut them to size as in the diagram, or buy the 3/4 insoles.
Trim and Fit your Superfeet Insoles if necessary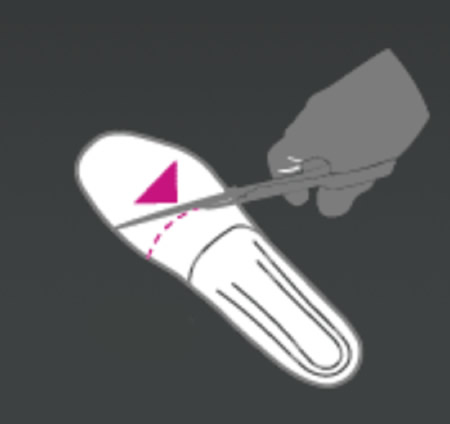 Cut insoles to fit into tight fitting shoes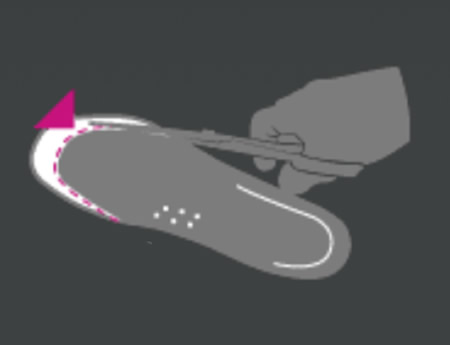 Trim insoles only if necessary
Contact Sue Ferguson
Podiatrist

Book an appointment now to help your foot pain
Tel: 01580 765546

Superfeet Insoles 3/4 for men
Superfeet Insoles 3/4 for women
Superfeet Insoles
Superfeet Insoles for women's
high heels
Superfeet black DMP orthotics
for sensitive feet