Chiropody Fees
Payment can be made in cash or by debit or credit card
General
General Fees
£
Routine chiropody and podiatry
£50.00

More than one dressing change in one week:

2nd dressing change in one week (1st appointment charged at normal rate)
£25.00
Nail Surgery
For ingrowing and ingrown toenails
Permanent removal of toenail or part of toenail with local anaesthetic
Fee includes pre-assessment appointment, treatment and 3 follow up dressing changes. Healing after this procedure will take at least 4-6 weeks.
Nail Surgery Fees
£

One side of one toenail or total toenail removal

£275.00
Two sides of the same toenail, extra
£25.00
One side of second toenail, extra
£75.00
EXAMPLE
Total cost of two sides, two toenails
£400.00
EXAMPLE
Total cost, of two total toenail removals
£350.00
Nail Surgery
For ingrowing and ingrown toenails
Removal of part of toenail with local anaesthetic
This is not a permanent procedure and the nail will eventually grow again. This type of procedure might be preferred if you don't heal very well or you haven't got enough time for the area to heal from a permanent procedure, for instance before a holiday. The area heals much more quickly than a permanent procedure because phenol to destroy part of the nail bed is not used.
| | |
| --- | --- |
| Nail Surgery Fees | £ |
| One side of one toenail, not a permanent solution | £115.00 |
Orthotics and Examination
Orthotic and
Examination Fees
£
Biomechanical examination and computerised gait assessment
£100.00
Prescription custom made orthotics

£250.00
TOTAL for custom made orthotics
£350.00
Leather top cover
£25.00
Rush Order
£25.00
Recover/refurbish Orthotic
£100.00
Appointment to discuss whether orthotics are suitable for your condition (optional appointment)
£50.00
Biomechanical screening assessment (usually as part of an osteopathic examination with Bill Ferguson, Osteopath)
£50.00
Over the Counter Orthotics/Ready Made Orthotics
Over the counter insoles and orthotics

£20-£90
Over the counter premium orthotics for toddlers and young children
£20-40
Prices subject to change
Contact Sue Ferguson
Podiatrist

Book an appointment now to help your foot pain
Tel: 01580 765546

Custom Made Everyday Orthotics
Custom Made Orthotics for Golf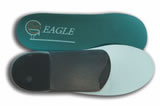 Custom made orthotics for playing golf. Make an appointment
Custom Made Orthotics for Football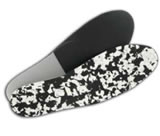 Custom made orthotics for playing football